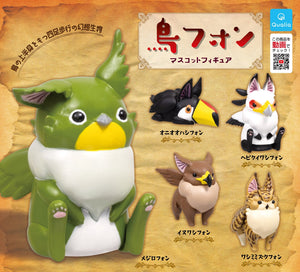 These figures come in gacha balls! The gacha are sent out at random, so you may get any of the following variants:
- warbling white-eye
- toucan
- secretary bird
- golden eagle
- eurasian eagle-owl
They're little cat-like griffons inspired by different species of bird! Each figure is around 65mm along it's longest side (height or length). Designed by artist @isanatolu and produced by Qualia. 

I am unable to fulfill special requests for a particular figure!
If you buy multiples I will try to not send duplicates but no promises!
These items are NOT made by Mamath in any way shape or form!