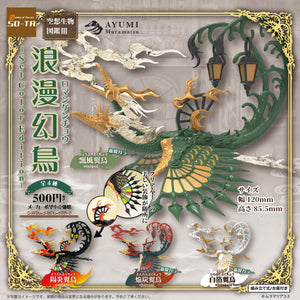 These figures come in gacha balls! The gacha are sent out at random, so you may get any of the following variants:
- Wind God (Green/gold/white)
- Sunlight (black and orange with "stained glass"-like wings)
- Charcoal (dark red and blue-gray)
- Whitegold (white and gold!)
Sculpted by artist @ayumi_M580 and produced by SO-TA. These birds are the third entry in the "Creature of Fancy" series from Ayumi Muramatsu. 

I am unable to fulfill special requests for a particular figure!
If you buy multiples I will try to not send duplicates but no promises!
These items are NOT made by Mamath in any way shape or form!